Split pea soup with pancetta and ham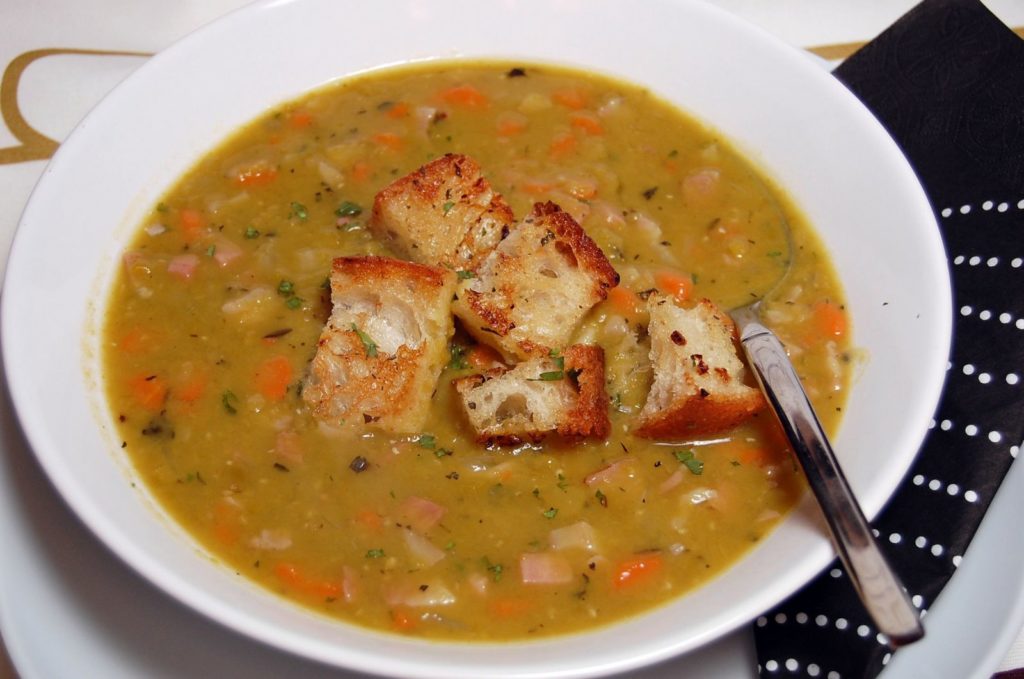 I should just go ahead and change the name of this blog to Soup and Brekkie, cuz I'm on a fucking kick. Soup is a basic thing, though, and anyone can make excellent soup if they're willing to keep bags of bones and carcass in their freezer. If they're not, though, they can still crank out a reasonably fantastic split pea.
Split pea soup doesn't even require stock to be awesome. The peas bring plenty of flavor of their own, particularly when combined with a (celery-less) mirepoix of minced carrot and onion, ham and pancetta. Render the pancetta in a drip of olive oil, then brown the mirepoix in the bacon fat. Add the diced ham and the split peas, and stir them around to coat in the fat (sorta like making risotto). Add a couple bay leaves and thyme sprigs, then a bunch of water. Simmer for an hour (stirring once in awhile), or until the peas are softened but still retain their shape when stirred. Salt and pepper to taste, and stir in lots of chopped parsley and mint. I like extra mint and black pepper in mine.
I made some fatty croutons from some leftover pugliese (although I lied to Peter and told him it was ciabatta, just to fuck with him). Just cubed and browned in butter with a crunch of salt and some thyme, and there was a nice textural contrast always welcome in a bowl of soup.
Enjoy with early pajamas and a mug of budget chardonnay.
---