Foodbuzz 24×24: Yes We Can – Food Preservation for the Modern Palate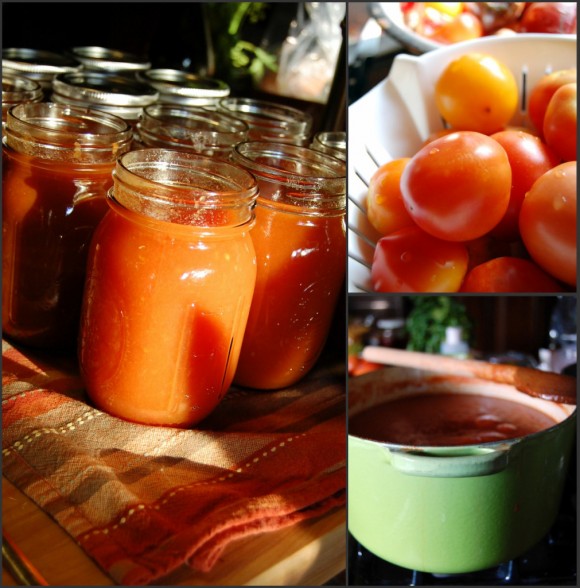 Now that summer is winding toward its long-lit end, our minds shift toward the harvest. Anyone with a patch of dirt is likely up to their ears in a plenitude of homegrown produce, and this overabundance can daunt the timid. What do you do with 10 pounds of zucchini, tomatoes, plums? Who wants to eat the same thing every day, or take up valuable freezer space? You can give it all away, sure, but doesn't that defeat the purpose? We grow food to save money and to enjoy the freshest fruits and vegetables available. Why not preserve it for later?
Home canning doesn't mean sodden, gray vegetables, hillbilly county fairs or frumpy, old ladies sweltering in hot kitchens. Canning is enjoying a resurgence in popularity, thanks to nostalgia for simpler times and preference for artisanal, small batch goods. That said, home cooks are more sophisticated than ever, and crave modern ingredients. I prepared a rustic (though elegant) summer meal from home-canned goods put up during this peak of the harvest season. I intend to prove that modern food preservation can be, dare I say, chic. Yes – Luddite can be luxe.
In this month's Foodbuzz 24×24, I wanted to pay tribute to tradition, but with a nod to novelty. Think Country Living meets French Laundry. This month's 24×24 also sheds light on a subject close to home for me: The Big C. Foodbuzz has partnered with Electrolux to raise money and awareness for Ovarian Cancer Research, and I wanted to participate to show my support.
Humor me during this brief digression:
Though she wanted nothing more, my mother never had time: to grow the food she ate, to pick beans and tomatoes, to pickle and conserve. She idealized these old ways, though, emulating the aesthetic in her younger days with prairie skirts and macrame (and later in her penchant for Shaker furniture and Appalachian egg baskets). She painted barns, and fescue-overgrown split-rail fence rows, and brave women walking lanterns through darkness. She wanted to see Amish Country.
My mother never had time for visits to the doctor's office when she felt tired and shitty, which was often. Her life was a series of  "now whats" – proscrastination, waiting for imminence. One day, imminence did finally drive her to the emergency room with a prolapsed uterus (proccidentia, to be specific), and that's when she got the big Now What. The CT scan revealed that her colon was riddled with tumors, and her ovaries had been nearly replaced with cysts.
My mother never had time to fight cancer. She died eleven days after her diagnosis, and an autopsy performed for scientific research suggested that she'd probably been sick for about ten years. She was 49. Procrastination kills. Get your fucking check-ups, please.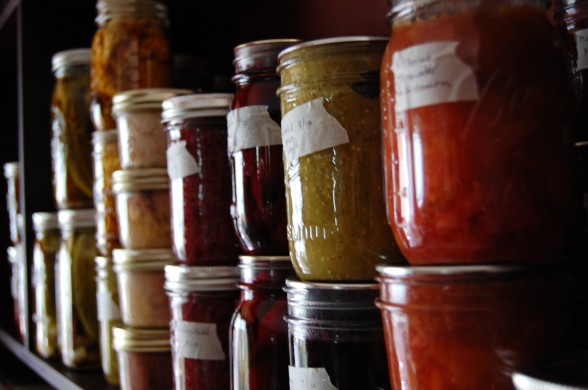 For those of us in the temperate Pacific Northwest, harvesting from our own gardens this year has produced a paltry yield. A long, cold spring set everything back at least a month, and most people I know are staring at a garden full of hard, green tomatoes. An Indian summer, while something to hope for, is not something to count on. This hasn't stopped me from putting together a sizable pantry, though (thank goodness for bulk buying directly from farmers). And those green tomatoes can always become chow chow and pickle relish (mine will).
But though it's not always ours to harvest, the season is yet upon us! As some of you are winding down from summer vacations, I am just beginning my serious work. There is no longer time to lackadaisically fiddle with hobby canning, a pint or two at a time – it's time to put up or shut up. But fear not, my budding homesteaders – you, too can do this (oh, yes you can).
We know that it's smart to save all this good stuff for later. Whenever I moan about how tired I am of all this work, someone helpfully chirps, "you'll be so glad you did it later!" And I do know this. This winter, I'll be so smug and happy when I can pull organic heirloom tomatoes and picked-in-their-peak blueberries from my shelves. But here's the revelation: just because you've spent all this time on preserving your food, don't think you need to save it for winter. Canned food is no substitution for fresh food – it's delicious in its own right. So I invited a few ladies over to celebrate just that.
Menu
Ploughman's lunch: Buttered bread with Noris Dairy smoked cheddar, homemade Tails and Trotters hazelnut-finished pork rillette and a selection of homemade pickles: garlic-dill baby cucumbers with lovage flowers, baby beets with orange zest and spicy curried cauliflower

Albacore croquettes with heirloom tomato confit and saffron-red pepper rouille (made from home-canned tuna, tomatoes and red peppers)

Satsuma plum and Conadria fig tart with chèvre and rosemary (made from plum and fig preserves, fruit picked from neighborhood trees)

Cocktail: Sweet Brier (homemade lavender cello with Prosecco and blackberry coulis)
This is not traditional pub grub, but I'd hazard a proper ploughman would be right happy to have a plate of this in front of him. Spicy pickles, rich smoked cheddar and good bread were a fine meal alone, but oh, there were rillettes. I'm so pleased with my first attempt at this, that I'll even give you a bit of a recipe (adapted extremely liberally from Anthony Bourdain's Les Halles Cookbook):
Rub a cubed 2lb pork collar roast (coppa) with some fancy pink salt, about a tsp of lightly crushed pink peppercorns, a few juniper berries, a bay leaf, and about 1/4 cup or so of brandy that you macerated with fresh figs (that you picked from neighborhood trees) for about a month. Let this sit in the fridge overnight. The next day, pull out your pressure cooker and brown the meat in a little schmaltz or duck fat (I used a combination), then pour in another little splash of fig brandy and just enough stock (I had gelatinous, smoked pork stock from the pig roast in the freezer) to cover the meat. Pressure cook at 10psi for an hour, and then shred the meat with two forks until it's a spreadable texture. Mix in a little more schmaltz or lard and duck fat or butter, season to taste, and then spread it into a ramekin or souffle or some other pretty vessel. Cap with a 1/4″ layer of fat (I poured melted fat over the top) and refrigerate to set. Tony Bourdain says this will stay good for a month, but I doubt it'll last that long. I've been feeding it to the baby to fatten him up.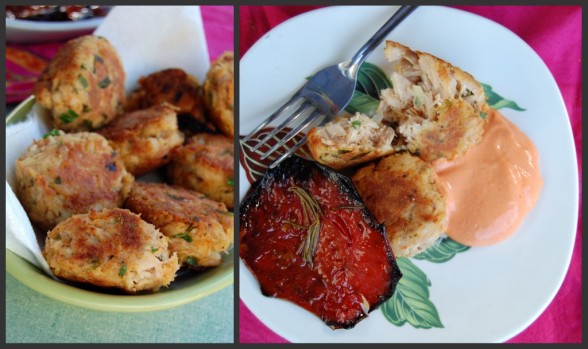 I cracked open a couple jars of the gorgeous local albacore that I pressure-canned and mixed it with some lemon zest and lovage flowers, an egg, some panko, minced sweet onion, a little chopped parsley and some smoked paprika. I then patted this mixture into neat little balls which I fried up into croquettes. This is another delicious use for canned tuna that I think perfectly illustrates the elegant potential of a Depression-era household staple. Dolled up with a little red pepper rouille (blend roasted red peppers with egg yolk, lemon juice, red wine vinegar and a few saffron threads, then drizzle in olive oil and blend until a thick sauce forms) and tomato confit (roast sliced tomatoes in olive oil until chewy and caramelized, about an 5 hours at 250 or an hour at 400 degrees).
Like tuna (or any low-acid food), roasted red peppers and tomato confit should always be pressure canned to avoid deadly botulism, but you could certainly refrigerate them for a week or so if you keep them covered in oil. The leftovers are no-brainers as pasta toppings, or would be excellent chopped into ground beef for meatloaf or burgers.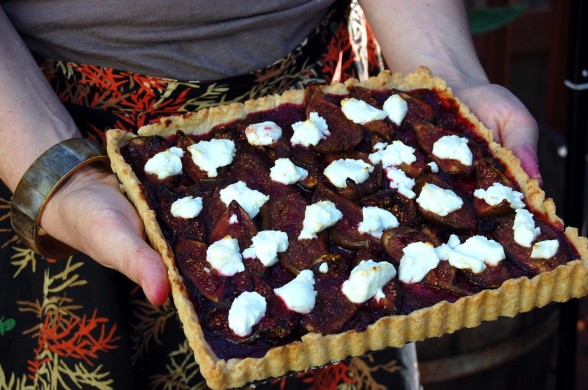 I was originally going to add prosciutto to this tart and make it another savory course, but at the end I felt it needed no gilding. This was a beautiful and deceptively simple end to the meal. I used Joy of Cooking's basic flaky pastry recipe, smushed it into a tart pan and parbaked for 20 minutes (15 minutes covered with foil and weighted with old beans, 5 minutes uncovered) and then spread the tart shell with sweet Satsuma plum jam (from plums picked in the neighborhood), preserved roasted Conadria figs, black pepper and some nubs of good goat cheese. When it was finished I sprinkled fresh rosemary over the top. I will make this again, but I don't know if I'll ever find it necessary to add prosciutto.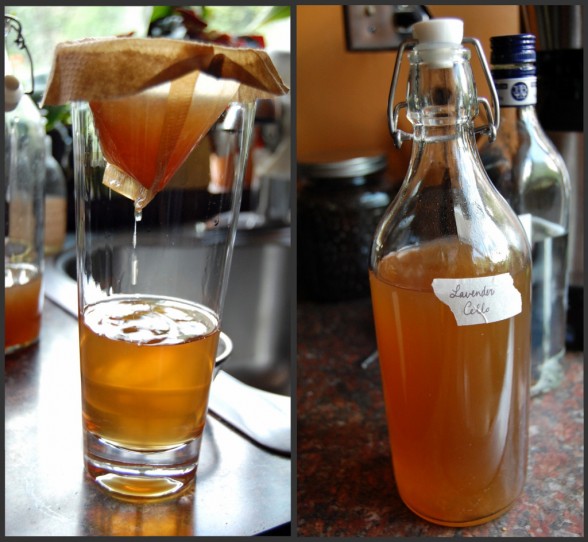 Though the cocktails themselves looked a bit splotchy from the blackberry coulis, this homemade lavendercello is a winner and I will tuck this one away for future use. Pour 12 oz of decent vodka over a pint jar of lavender blossoms. Keep in a jar in a cool, dark place, and shake the jar every other day or so. After about a month, strain the lavender-infused vodka into a nice bottle and add 1/4 cup of honey, 1/4 cup of sugar, about a cup of water and then dilute to taste with more vodka (I think I ended up adding about a cup of vodka). The cello will be a little cloudy from the honey and lavender essence, and that is part of its charm.
Sweet Brier
1 oz lavendercello
1 oz blackberry coulis
4 oz Prosecco
Have all the ingredients chilled. Mix the lavendercello and blackberry coulis in a tumbler, then carefully pour in the Prosecco. It will fizz all over the place. I guess you could garnish with something pretty like a lavender sprig or a twist of lemon.
I hope my little fête has convinced you that canning is for everybody. Now that I'm a new mother, I find it extremely important to steal precious moments of productivity when I am able. With the exception of the tuna, these canning projects can be accomplished in one-hour increments, or can fill a rainy weekend (and oh, there will be plenty of those) – but you will always eat the better for it.
---