Four-mushroom and brie risotto
I have, yet again, amassed quite a collection of on-the-verge goodies in my refrigerator: enoki, maitake, shiitake and chanterelle (aka anzutake) mushrooms; hunks of cheese (not the least of which is a French triple cream brie), sprigs of thyme, the remnants of a bottle of Chardonnay. Oh, this is easy.
I couldn't really say this is a wild mushroom risotto since I haven't actually gone out for them myself yet. But I will, soon! I have a good feeling about it – chanterelles for $5.99/lb (instead of the usual $14.99/lb) leads me to believe the market – and forests – are flooded with them.
Risotto, the basic-est of Things, is such an expected way of using up mushrooms and cheese. But believe me, I've been here before. I just don't feel like making a tart today. Risotto is a foodist's staple for a reason: it's easy, it's comforting, it empties the refrigerator of forgotten bits and orts and it's not casserole (not that there's anything wrong with that).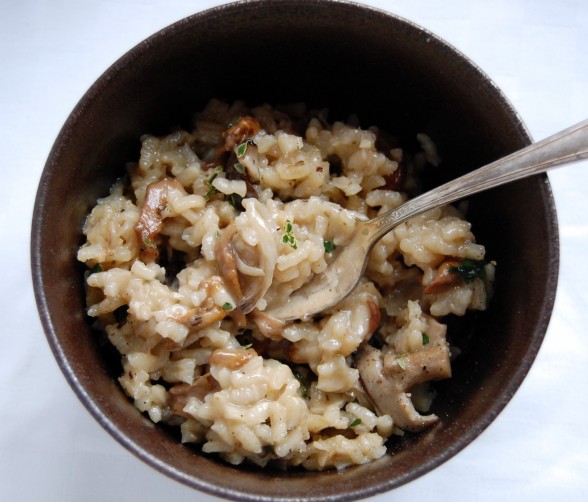 Besides, my fingers ached to feel the resistance of arborio rice creaming against my wooden spoon. I needed the comfort of stirring motion on these sun-weary arms, like rocking a baby in a cradle. And I couldn't wait for this weekend's impending storm for it. I wiped my apron across my favorite pan and warmed it over the blue flame.
Since chanterelles release their own forest jus when heated, I started them first to the saute in butter and chicken schmaltz skimmed from the stock simmering on the adjacent burner. I added finely minced onion, garlic and thyme. Next I added the other mushrooms and passed them back and forth across the pan until they squeaked a bit. I added more butter and the rice, and went about the business of making risotto. When it was a nudge chewier than al dente (this is the perfect texture for risotto), I folded in another ladleful of chicken stock to coax out that last ooze of velvet, and about 3 tablespoons of Brillat-Savarin (a creamy, leafy whiff of an autumn's day) to complement the mushrooms' earth tones. Please note that the only dairy that should ever be added to risotto is butter and/or cheese; adding cream is cheating, is incorrect and is a pedestrian game.
Serve with a dry Prosecco or Champagne (oh, live a little).
---