Roast Beef Hash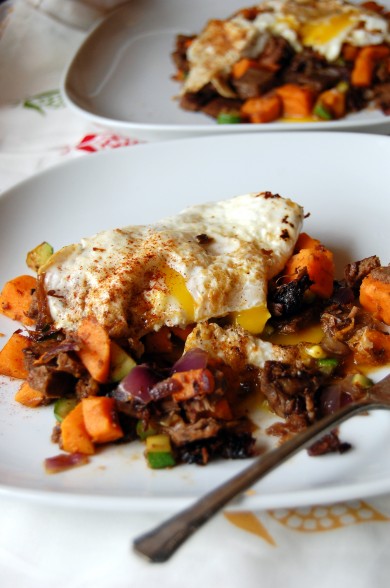 I've been on a bit of a comfort food trip lately. I checked out the Williams-Sonoma Comfort Food cookbook from the library, and in attempt to stave off the winter Kill Myselfs, have been cooking my way through it. Actually, I have been mostly just using it to decide what to cook and then making my own version, not actually following the recipes. But maybe I should – who knows, I could get a book and movie deal.
Over the past few nights I have made chicken and dumplings (dumpling recipe from the cookbook is simple, and a total keeper), beef Stroganoff, spaghetti Bolognese, and Meyer lemon roast chicken with mashed potatoes and roasted green beans. I also totally destroyed a bottom roast in my pressure cooker (stupid grass-fed hippie cows don't have enough fat on them to cushion against the PSI), so instead of having lovely pink roast beef dinner, I ended up slicing half of it paper-thin and draping  it over a halved baguette with caramelized onion jus, sharp white cheddar and horseradish. Not a bad save, I guess. The other half of the hunk spent two days in the fridge just languishing in a tub of rich beef aspic, staring at me sadly. It was serendipitous that I happened upon the corned beef hash recipe in the cookbook, so I kicked things off on Saturday with this roast beef hash.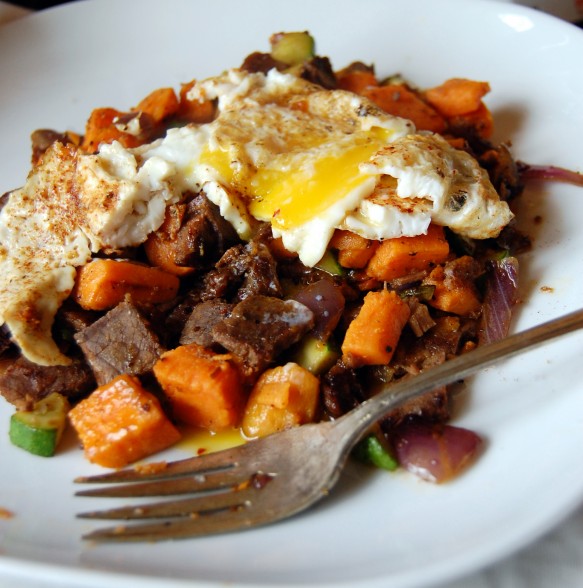 I heated up the wonderful Le Creuset griddle that Scott gave me for Christmas in 2009 (flat side up). Meanwhile, I diced up the roast beef (scraping the gorgeous beef jelly off the meat), red onion, zucchini and a bit of cooked sweet potato. I greased up my griddle with olive oil, and like a short-order cook in a diner, I got everything moving around on the flat top. I hit it all with a little paprika, thyme, salt and pepper. When it was good and crispy on the edges, I pushed it all into a pile on the back burner and fried a couple of eggs. I then draped these eggs sloppily over the hash, resulting in a broken mess, though the eggs were technically cooked perfectly (custardy yolk with a little runniness).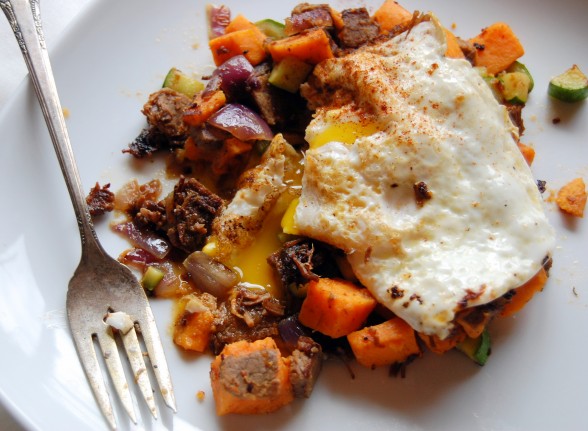 This was a good rib-sticky brunch, and I have managed to avoid blowing my brains out for one more week. Serve with a slice of toasted rye and a bloody Mary.
(Go ahead, spend that tax return early.)
---