Corned Beef Reuben
A day late and a dollar short, as always.
I decided to try my hand at corning so I could participate in Charcutepalooza this month, but I forgot that I was supposed to post this on the 15th. Oops. It's cool, though, I didn't really want to be one more plate of corned beef at Saint Paddy's day, and I let my creativity and Teutonic roots take me in a different direction.
The neat thing about corning (long-brining meat for 60 hours or more) is that it isn't for brisket alone. Besides, I didn't have any brisket – for some reason, whenever I go in on half-beeve splits of grass-fed beef, I never get any brisket. I did, however, get a nice, cylindrical rump roast that I figured would cure well. After all, it is just another cut from a leg; it's just from the back instead of the front.
I prepared my generic brine by combining kosher salt, pink salt (nitrates are how curing happens), brown sugar and water. I wanted to have a slightly aqvavit flavor so I added caraway seed, a couple clove buds and juniper and allspice berries to the usual peppercorns and crushed bay. Then I got a wild hair up my ass and added grains of paradise to the mix for a little zing. I massaged a little crushed garlic into my roast and then immersed it in its bath. Saint Paddy's Day came and went, and on the 5th day I pulled the little beaut out and rinsed it off.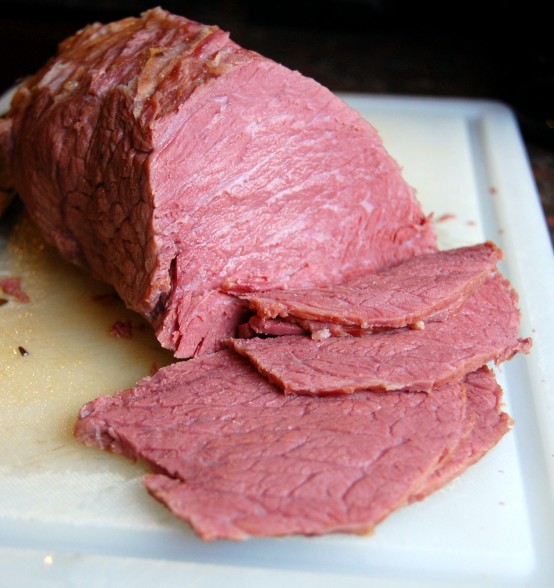 Here's when things went south.
I pressure-cooked it with an onion and some celery. I fully intended for this to be a nice Sunday roast dinner with new potatoes, carrots and peas and all that, but when I sliced up the roast – so succulent! so rosy! – it tasted exactly like hot dogs. I mean exactly.
I slightly panicked. What the hell was I going to do with a 3 pound log of hot dog? "Nitraaaates!" I cursed, shaking my fist. I contemplated dipping the whole thing in cornmeal batter and dropping it into a fryer. Instead, I made my potatoes, carrots and peas, and I dribbled a rich beef jous over everything. It was salty, but edible. The next day, I calmed down and came to my senses.
Of course. A Reuben. Forehead slap.
I picked up a nice loaf of rye and some sliced Swiss. I had everything else already in my coffers. I whipped together some thousand island dressing by mixing some mayo, some of smoky-sweet roasted tomato ketchup that I canned last summer, a few spoonfuls of homemade green tomato relish and chopped dill pickle (also homemade) with a little blob of gochujang for heat. I cobbled together a sauerkraut of sorts by chopping together some chowchow, a wad of pickled cabbage and some pickled Walla Walla sweet onions. My tireless food preservation efforts had once again come to my rescue, and I gave myself a smug pat on the back.
I assembled the sandwich and carefully toasted it on my lovely cast iron flat-top. A nice German beer, some good pickles (currently taking up residence in my fridge: baby beets, dilly beans and hot Kosher dills) and the day was saved.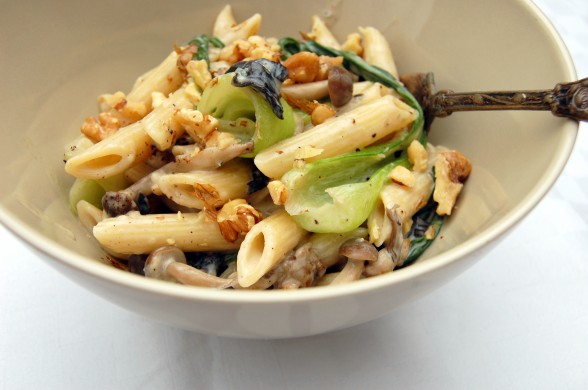 It really was.
---