Dutch Baby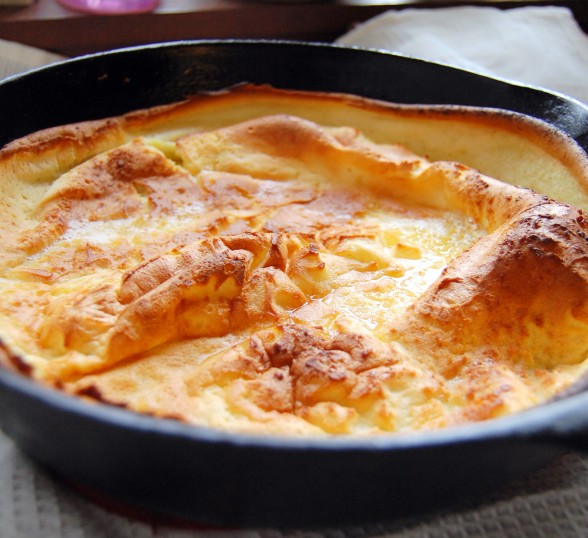 Dutch babies are a signature dish of one old Portland institution, the Original Pancake House. When you order one, they bring it out all puffed up on the plate, sprinkled with powdered sugar and with a little carousel of toppings: whipped butter, lemon wedges and more powdered sugar. It's like getting the sizzling platter of fajitas or the bubbling hotpot: the fanfare is a little embarrassing, but you know it will be worth it.
I was eight years old the first time I made one. It was late on a Saturday morning, and my dad was watching television in the living room, getting a solid start on the day's drinking. I was left to my own devices, and without my mom home to stop me from endangering myself in the kitchen, I started perusing her cookbooks. I loved flipping through my mom's tattered old copy of Joy of Cooking, and since I already had a repertoire of recipes for mud pies seasoned with sprinkles of dried morning glory leaves, I knew I was ready to move on to greater tasks than peeling potatoes or opening cans of olives. I found the only breakfast recipe that could be made from our meager food bank ingredients, listed as German pancakes.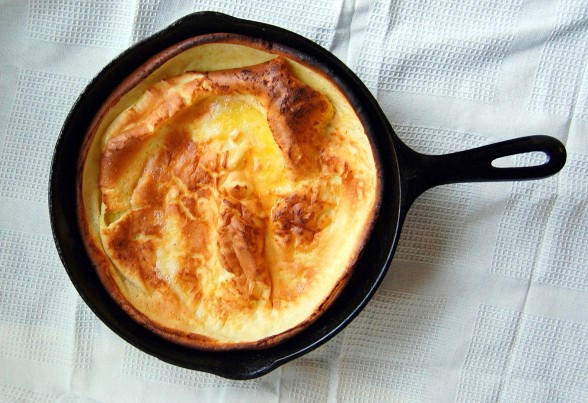 I whisked together 1/2 cup flour, 1/2 cup milk (made from the powdered stuff in the donation box), 1/4 cup sugar and two eggs. I melted 4 tablespoons of margarine (we didn't have butter)  in my mom's old cast iron skillet and poured in the batter, cooking on the stove for one, undisturbed minute and then baking in a 425° oven for 13 minutes.
I watched carefully through the oven's window as my little creation baked, and when the timer dinged, I put on my mom's oversized oven mitts and pulled it out. It was a sight —  puffed and golden; immense beyond my wildest dreams. I proudly plated my beauty, sprinkled on a few drops of ReaLemon and some powdered sugar, and presented it to my father.
He didn't believe that I had cooked it all by myself. I doubt he even realized I'd been in the kitchen. I don't know if he ever figured out where it came from. I stood and stared at him as he devoured my handiwork in four or five bites, his eyes glued to the television the entire time. When he was finished, he handed me the empty plate without a word. After that, I spared myself the trouble and just ate them myself.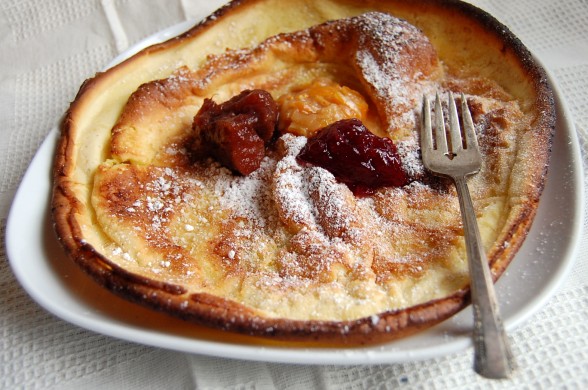 Dutch babies are just the thing when you have a craving for pancakes, but standing at the stove for thirty minutes just isn't in the stars. They're tender, sweet and eggy like a more substantial crepe, and are similarly adaptable to savory applications (mushrooms, herbs and cheese come to mind). And they're fast and easy enough for an unsupervised child to make.
---