Pasta and Seafood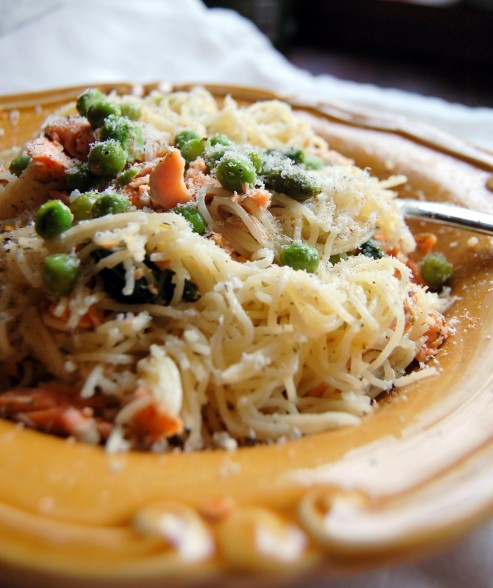 A match made in heaven, no? I'm not talking about tuna noodle casserole, though I ain't mad at that; especially not when it's made with home-canned albacore and fresh sweet onion-shiitake bechamel. I'm just talking about some pasta, some seafood, something green and something dairy. This is a formula that can never disappoint.
Fall and winter is the time of year when we lucky Pacific Northwesterners are flush with an embarrassment of bounty: the last of the fall runs of weary coho and Chinook salmon, the silver streaks of winter steelhead, and freshly molted crab growing into their new chitinous skins. And of course, that's not even to mention all the food that doesn't swim or run. We have so much great stuff, and it all tastes good with noodles.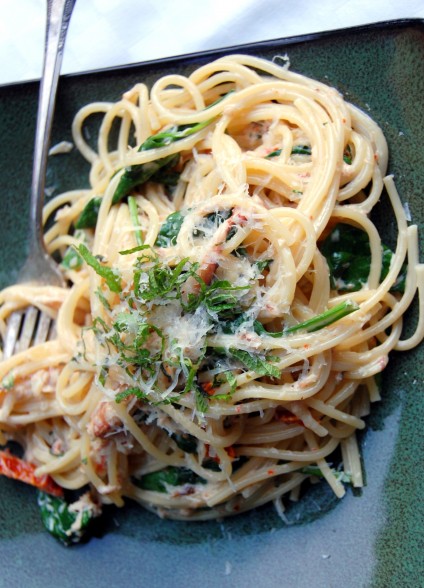 In the first case, I have spaghetti tossed simply with cream, fresh Dungeness crab, spinach and sliced sun-dried tomatoes to compliment the crab's sweetness. I topped it with a chiffonade of lemon balm from the protected parts of the garden and a sprinkle of chile flake to keep the sleepy cream on its toes.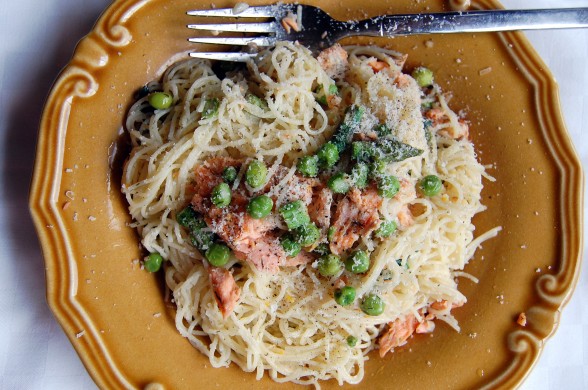 The second, equally unseasonably light dish is a pile of capellini tossed in olive oil and garlic (and a bit of the cooking water for body), into which flaked steelhead, peas and asparagus were gently folded. I topped the noodle nest with lots of fresh black pepper and Pecorino, because of course I did. The peas and asparagus are more evocative of spring, it's true; but after a few weeks of kale, leeks and kabocha, well, I certainly wouldn't judge you for eating out of season.
---