Pizza Bolognese
Sorry for the dead air for the past…oh, my. It's been a month. I've got a lot of irons in the fire right now (including some projects for print), and this just fell off my radar.
But it's summer! And the garden is full! This hot spell we've had is granting my nightshades a bit of leeway, and I dare say I'll have enough ripe tomatoes to can this year. I've had about a quart a week of cukes to pickle, and it probably goes without saying that I've been up to my ass in summer squash.
One nice thing to do with zukes (or pattypans, or eight-balls) is to just slice them on a mandoline and throw them on some dough with a bit of meat sauce and cheese. In fact, that's just what I did.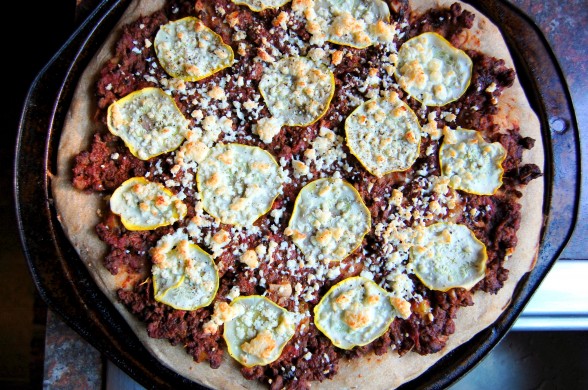 I had a weird craving for the Levant pizza-esque dish sfiha. It's normally made with beef or lamb, and is usually nowt more than a meat sauce spread on a flat bread and sprinkled with pine nuts. There's a little pomegranate molasses in the sauce for tanginess, but otherwise it's not totally dissimilar to a thick Bolognese sauce.
I just happened to have a tub of rich meat sauce from a chuck roast I ground up—making room in the freezer for the next half-cow when it's not roast season is a bit of a task, but hey, you end up with little tubs of things that are easier to use on a lazy night. I also had a bag of store-bought pizza dough from Trader Joe's because despite all of my well-meaning DIY tendencies, I still just haven't gotten around to learning how the hell to bake bread. I spread the Bolognese sauce all over the dough and topped it with shaved pattypan squash, extra oregano, and crumbled cotija cheese. I know, that sounds totally out of left field, but just close your eyes and pretend it's ricotta salata and it makes perfect sense, right? They're both salty, sharp, crumbly and white. One is from sheep's milk; the other, cow's. Otherwise, not too much different.
When it came out of the oven, I topped it with a handful of baby arugula and a drizzle of olive oil. I was already bastardizing the sfiha by making it Italian-flavored with Mexican cheese, so I figured I may as well go balls to the ball. And I'm glad I did.
---