Tuna po'boy with green tomato relish
You know what I hate? Not knowing how to use my camera properly, even after all these years. If I use the auto macro settings, I can't adjust the white balance. If I use the manual settings, I don't know what I'm doing wrong that makes my images so dark (even with fancy halogen lighting!). Is it the ISO settings? I have no idea. But then, I never claimed to be an expert.
I'm a little embarrassed to admit that even though I work from home now, I can't always have food ready to shoot in daylight. Sometimes I don't even have any leftovers to stage the next day during good light. I usually just end up not blogging this food, because if I can't do something right (and by "right," I mean "to my exacting, perfectionist standards") I usually would just rather not do it at all.
But even though the plate is a monochromatic, misguided tribute to Golden Brown and Delicious, this sandwich was too good to hide! And if motherhood has taught me anything in these ten short months, it has been to Lighten the Fuck Up, and to Cut Yourself Some Fucking Slack, Already. So I am posting this, regardless of the painful off-balance lighting (though you can't see my hung head and my prostrations of humiliation, make no mistake – they are here).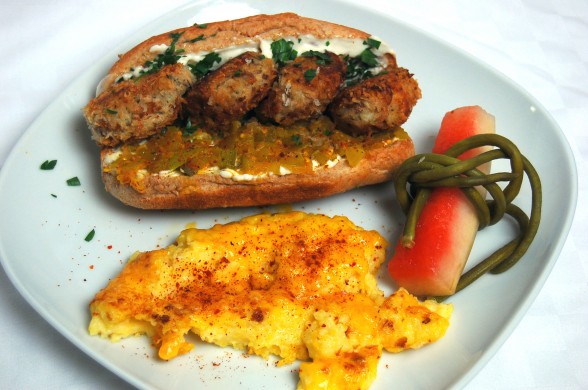 This one was edited so badly it's almost comical – it's like blinding retro food.
Okay, okay, enough self-deprecation. This was a damn good sandwich, made from flaked home-canned albacore that was mixed with leftover mashed potatoes and some panko, an egg and some minced shallots. This mix was formed into tiny patty-balls and fried croquettishly, then  nestled onto soft wheat sandwich rolls that had been smeared generously with mayo and my spicy green tomato relish.
And that big pile of Yellow is actually a slab of grits that were chilled to solidify, then sliced, fried and covered in sharp cheddar and then broiled until the cheese was browned and bubbly. It was so rich it absolutely necessitated the addition of pickles to the plate; in this case, pickled watermelon rind (the same recipe from my Black History Month dinner a year and a half ago) and spicy pickled Chinese long beans. The long beans were pickled with lots of lemon and ginger, chiles and peppercorns, and wound around and around inside the jar like a tight spring. And they are delicious.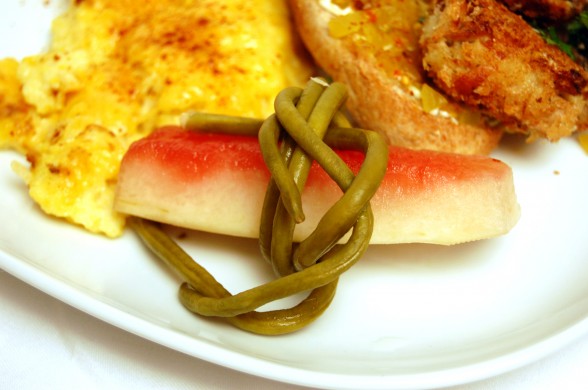 I will crack open my camera's user's manual, I promise.
---