Pork cheek confit with caramelized turnip and apples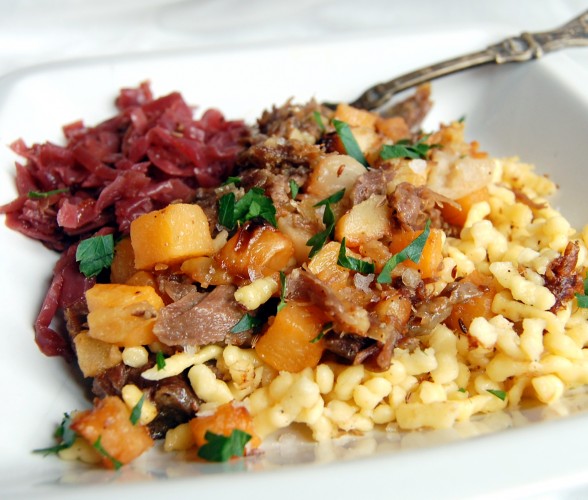 Spring has indeed sprung, yet I always find myself at this time of year with a certain yen for autumnal things. Pomes and root vegetables; meats cooked to shredded perfection, their connective stuff all pulverized (by time, or pressure) to gelatin. These are good things, and I am always a little reluctant to put them away in favor of all that asparagus and risotto and springtime fervor. Some of my best gratins are off-season Johnny-come-latelies.
But spring is here to stay, and that means cleaning time. Time to throw open the windows for a flush of warm fecundity, for our sweet ladies daphne and hyacinth to chase the cobwebs and winter's stale rancor. Time to open our cellars and bid farewell to our hangers-on, and this is our adieu.
So how about this:
Take about a pound of pork cheek medallions (pat dry) and rub them with salt, pepper and about 1/4 tsp crushed caraway seed. Leave this in the fridge for awhile – at least 30 minutes, overnight would be better. Here's where there's room for divergence: you can opt to confit this the old-fashioned way in the oven for like three hours at 300. Or, you can do like I did, and use your beloved pressure cooker.
Sear the cheeks in a little duck fat with a sliced shallot, a sprig of thyme and two smashed garlic cloves. When things have browned up a bit, pour in enough melted duck fat to cover the meat (be sure and save a dribble of the duck fat for roasting your turnips and apples). Close the lid on the pressure cooker and set it for 30 minutes on High Pressure (this is around 10-12 psi).
Meanwhile, toss one diced Lady Alice (or other sweet-tart/earthy, firm apple variety) and two diced turnips or rutabegas in enough duck fat to coat. Add a blithe sprinkle of salt and pepper, and roast at around 400 until the the edges are browned and roasty (around 20 minutes or so). And since you've gotten so good at multitasking, in this meanwhile, you should be cooking spaetzle. YES, ALRIGHT, I USE STORE-BOUGHT SPAETZLE BECAUSE I AM A BAD GERMAN. Heat up a pretty big pan over medium heat and toast a teaspoon of caraway seed. When it's aromatic, add a good knob of butter and then brown the cooked spaetzle.
When the pork cheeks are ready, scoop them and the cooked garlic and shallots out with a slotted spoon and add them to the pan of browning spaetzle. Use a fork to lightly shred the pork into hunks (though it will be so tender that you will really only need to suggest this to the pork), and stir it around a bit so the pork can crisp up a little on the edges. Then go ahead and add the roasted apples and turnips and give everything a good toss. Check and adjust seasoning as needed.
Serve with a sprinkle of minced parsley and homemade apfel-rotkohl (I canned a bunch of red cabbage last summer with apples, red onion, juniper berries and star anise). I paired this with New Belgium Abbey. New Belgium recommends serving that beer with desserts, but this tasted so perfect together that they might need to rethink that. The Trippel is also really good with this dish, but I just prefer malt over hops (yes, I am a huge girl about my beer).
Disclaimer:
I know I talk a lot of shit about blogging for "the wrong reasons," but once in awhile I have to put my money where my mouth is. Which is usually around an adult beverage of some sorts. Foodbuzz recently partnered with New Belgium Brewing Company — makers of some of my favorite domestic beers — so I opted in. And I got a stipend for free beer. A bunch of tasty Trippel and Abbey, all for my tummy. The catch was that I had to blog something about it (though technically I suppose I could've just drank all the beer and posted about pretzels). Making good on my end of the deal wasn't really my impetus, though. I already wanted to make this from some of the five pounds of pork cheek I have recently come into (one of the downsides to buying meat from wholesalers is that they usually make you buy a case of something), but it'd been too crappy out to start trying out the smoker.
---