Yankee Succotash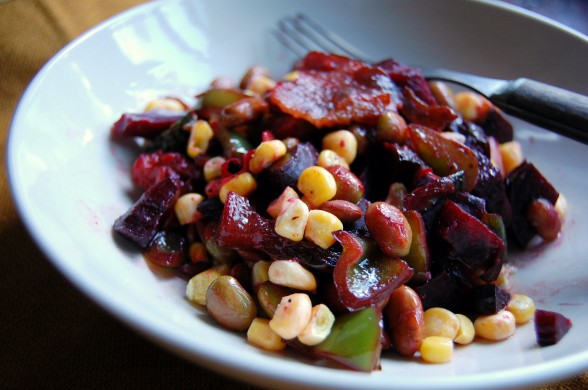 Yes, spring is here in Portland, but hanging-on cloudy days have me clamoring for earth tones.  I've always preferred muted earth tones and rich jewel tones, and even though I should be eating piles of sweet green pea tendrils and fennel bulbs, I don't mind the bruise of burgundy from my cellar's last beets.
My fat of choice these days is either butter or lard, depending; this succotash of corn, edamame, green peppers and beets called for warm bacon fat and a sprinkle of homemade Pinot Noir vinegar. Homemade vinegar (from the old French vinaigre, meaning "sour wine") is as simple as leaving the cork off an old bottle and screening out the fruit flies. If I'm not crazy about something I've opened, I let it run its course and invite the aigre to the vin.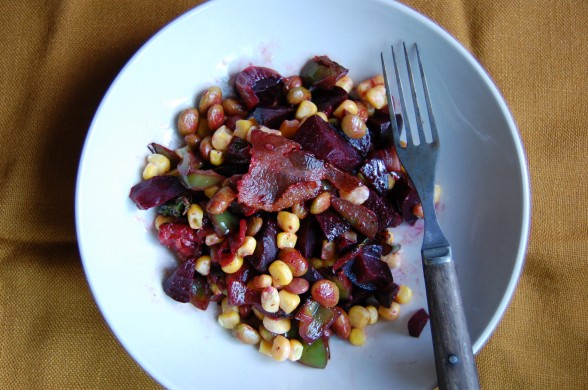 Here's what to do: spoon some of the bacon fat from that big jar you keep by the stove into a hot cast iron skillet. Saute a bit of diced onion until glossy and fragrant. Toss in some diced peppers, cubed roasted beets, frozen corn and edamame. Favas would be nice, too, if you could stand to blanch and peel enough (I couldn't). Add a pinch of salt and pepper, and a bit of fresh thyme. When everything's warmed through and al dente, add another little blob of bacon fat and a few dribs of red wine vinegar (homemade or not) to dress it.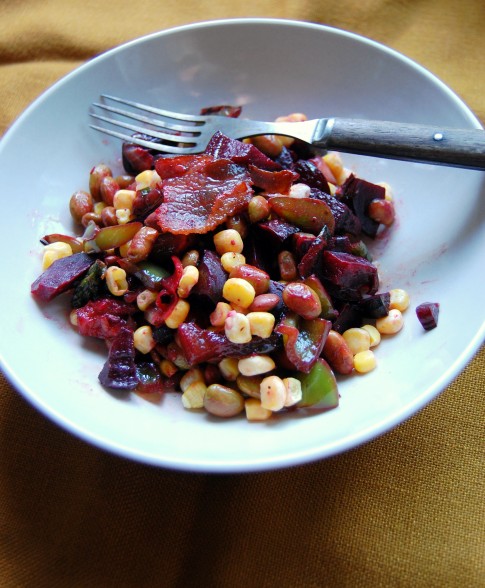 This melange of textures and varying levels of sweetness is, like its southern cousin, a perfect partner to a pork chop, say, or a warm wedge of buttered cornbread drizzled with wildflower honey. I ate mine with chicken andouille and a crispy grit cake topped with melted sharp cheddar.
Suffer-free succotash, perfect for any season.
---