Toddy Marmalade
I haven't tried this recipe, but boiling the rinds in a few changes of water reduced the pectin along with the bitterness, which is why Mr. Bradley recommends adding the high-pectin pulp of Golden Pippins (apples) back in. By the time this recipe was published in London, the Scots had been enjoying marmalade for two hundred years or so.
The Scots certainly did not invent marmalade — Apicius included recipes for fruit preserves in the 1st century— but they were the first to eat it specifically for breakfast. The acidic citrus had a warming, invigorating effect, deemed necessary to awaken the "cold" stomach and prepare it for digesting breakfast. A slice of orange peel "condite (candied) with sugar, and taken fasting in a small quantity" was the matutinal amuse-bouche recommended by physician Sir Thomas Elyot in the early 1500s.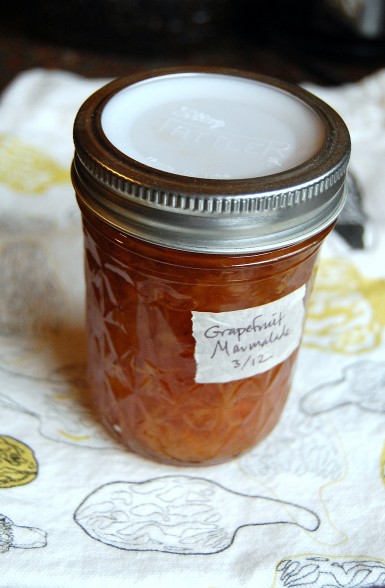 But this was a job that many supposed had been done perfectly fine by whiskey, thank you very much. English writer Samuel "Dr." Johnson wrote in The Johnson Calendar (1774) that "no man is so abstemious as to refuse the morning dram." He continued, qualifying the statement by writing that "[n]ot long after the dram may be expected the breakfast, a meal in which the Scots … must be confessed to excel us." The Scots, like many British, also typically enjoyed a draught of ale at breakfast. When tea-drinking (and that irksome temperance) caught on in Scotland in the early 18th century, some people replaced their sturdy mug of ale with a dainty cup of tea; others replaced the dram as well, instead opting for a bit of tummy-warming candied orange peel or marmalade.
Brigadier Mackintosh of Borlum was less than pleased about this. "When I came to my friend's house in a morning, I used to be ask'd, if I had my morning draught yet? I am now ask'd, if I have yet had my tea," he bristled in 1729. "And in lieu of the … strong ale and toast, and after a Dram of good wholesome Scots Spirits, there is now … marmalet, cream, and cold tea." He is positively quaking with justifiable annoyance.
Dr. Johnson had no such disdain for marmalade; rather, he mentioned it specifically as one of the delights of the Scottish breakfast table, writing that "if an epicure could remove by a wish, in quest of sensual gratifications, wherever he had supped, he would breakfast in Scotland." Because of their habit of serving tea with "not only butter, but honey, conserves and marmalades," Scotland, Dr. Johnson mused, had even the Mother England beat at breakfast.
The two gentlemen both raise very good points. I love nothing more than a hot English muffin spread with butter and marmalade. I get a happy tingle in my you-know-where when I think about a butter knife scraping across that toasty, lunar landscape of farinaceous delight. On the other hand, I do enjoy getting hammered in the morning. So which is it: Whiskey? Or marmalade? Unwilling to get between two very good arguments, I decided to split the difference and add whiskey to my marmalade.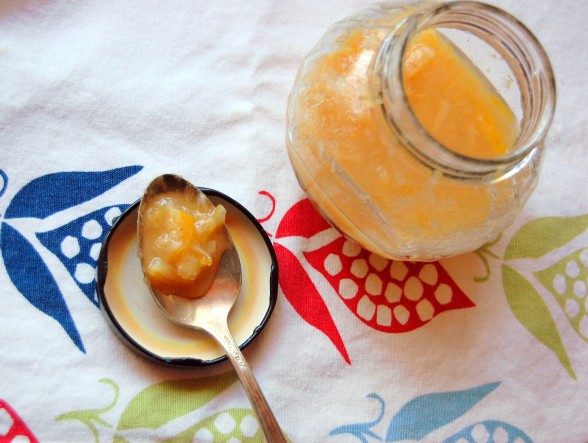 With its blend of sweet lemons and woody whiskey, this marmalade is not unlike a hot toddy (another Scottish invention), in jam form. I had a few half-pints of grapefruit marmalade left over from last spring that are just too bitter to enjoy without a fair amount of honey dribbled on top, and I decided to toss in a couple of jars to add a bit of dimension to the sweet, mellow Meyer lemons. I think it's a rather nice break from the usual. I wrote a loose recipe for marmalade awhile back, but my friend Marisa has a really good one in her book Food in Jars, and another really toddy-appropriate recipe on her beautiful blog of the same name. Just add a glug of whiskey.
Let us all be like the Scots, those masters of the breakfast table, and begin the day with a dram.
---