Vanilla Bean-Meyer Lemon Marmalade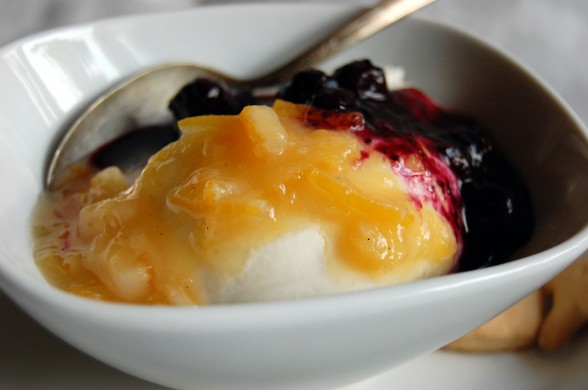 For some, winter is the season of dour darkness, of cold feet and of carbohydrate comforts. For others, winter is the season of sunny citrus, acidic and bright. Those of us who hail from climes north of around 40º trend toward the former category, but when we tire of eating (and looking like) dumplings, there is the latter.
I made several batches of marmalade recently: pink grapefruit with honey, blood orange with ginger. By far, the most successful has been this Meyer lemon with vanilla bean. It's the perfect balance of sweet, tart and bitter. It's fragrant but not snooty. It's a good thing, since I bought a whole case of Meyer lemons (some are becoming limoncello and being preserved in large jars of salt). I've put up about a dozen or so half pints of this marmalade and have been eating it almost daily.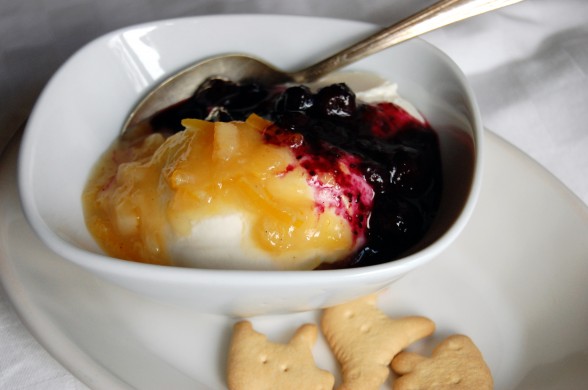 It's a bit of a pain to make – the fussiest of fruit preserves by far – but it's worth it, I promise. Just wash a bunch of lemons (let's say a dozen of them), and then trim off the belly button at the stem end. Quarter them lengthwise and slip the seeds out. Then slice each bit as thinly as possible. If your knife is very sharp you can get delicate threads of lemon peel almost like a chiffonade. Put these all into your favorite heavy-bottomed pot (my heart fluttered at the sight of a pot of yellow lemon slivers filling my lemongrass-green Le Creuset Dutch oven). Take all those seeds and belly buttons and chop them up finely (I whizzed them in the food processor for efficiency's sake) and tie them up in a bit of cheesecloth. Toss this into the pot with the lemons, add a bit of water (about two cups or so) and let this sit overnight. This sounds a little crazy, but the pectin in the seeds and pith will be released and will start to gel things up a bit.
The next day, turn on the burner and simmer for about an hour or so, taking care not to let things burn. After it starts to thicken up and smell wonderful, take out the bag of pips and add a vanilla bean (halved lengthwise and all the good pulp scraped out with a knife) and sugar. I like mine a little tart, but not too bitter, so I added about 2 or 3 cups of sugar.  Let this simmer again for as long as it takes to thicken to your liking. The thing they say to do is to drip a little onto a cold plate, and if it seizes up, then it's ready. I could never get this to work, even on marmalades that were definitely ready. I suppose if perfectly erect jams are your thing, you could add extra pectin. This just isn't how I roll.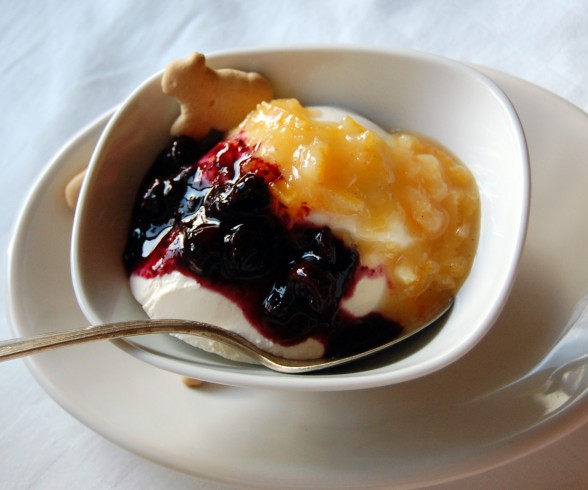 My favorite application so far is spooning it (with or without the summer's blueberry preserves) over full fat Greek honey yogurt and eating it with animal crackers. It tastes exactly like cheesecake, but is an absolutely acceptable breakfast. I also love it on toasted, buttered English muffins (or better: English muffin bread) with a hot cup of Constant Comment. This is to die for.
My marmalade is a little more relaxed than those you find in the stores. It's more like a thick fruit sauce. But that's fine with me. I don't need perfectly erect jam to be happy.
---